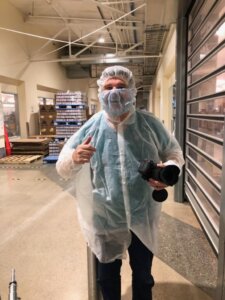 Meet Salt Lake City's very own master photographer, whose eye for detail and passion for creating the most striking images has earned him countless awards and accolades. Born and raised in California, he never imagined his journey would take him to Utah, but he's thrilled it did!
His impressive career began in film, working with top actors like Jennifer Jason Leigh and Christopher Lloyd. He then transitioned to news photography, covering historic events and rubbing elbows with famous faces including five US Presidents and two Popes. While his career path diverted into gallery ownership and web design, his love for photography never waned.
When an opportunity to pick up his camera again presented itself, he seized it and established R/E Media. With a keen eye for detail, he specializes in creating high-quality commercial and architectural images that truly capture the essence of his subjects.
It's no surprise that his outstanding work has earned him Utah's Best of State award for photography over a dozen times, and counting. He's always learning, growing, and improving, and his passion for photography shines through every shot.
His motto, adapted from a good friend and fellow photographer, is simple yet powerful: May your next shot be your best shot. It's this constant pursuit of perfection that makes him one of the most exciting and fun photographers around. If you're looking for the best, look no further than Salt Lake City's very own master photographer.